In industry, a due diligence audit is simply a diligent review into a company's full financial picture. These audits usually occur before a big acquisition, merger, or other action that may adversely impact the finances of one or more firms. Due & diligence analysis is usually conducted before purchasing a corporate company or sanctioning loans and credit to ensure if the relevant details are in line with the one provided. In cases of corporatization, disinvestment, stock offers, leveraged buyouts, leasing, borrowing, venture funding, business consolidation, etc., due diligence is carried out.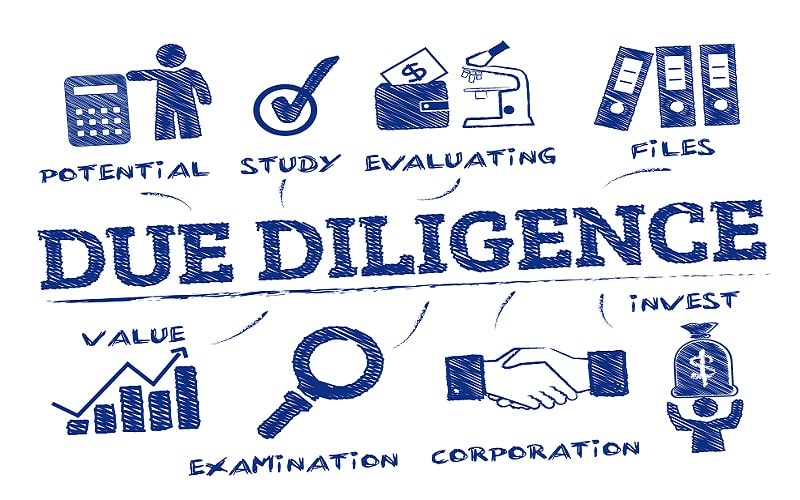 Frequently Asked Questions​
Professionals describe due diligence as an evaluation or audit of a potential investment a prospective buyer receives. The goal is to validate the authenticity of the information provided by the seller and to determine its worth.
What is Contingent Due Diligence?
Contingent due diligence means the purchaser has expressed and accepted interest in a business or buyer. However, the final terms of the transaction and the move forward decision are based on the inquiry results of the buyer. That means an organization or person can withdraw if their findings do not satisfy them.
What is the difference between due diligence and audit?
In general, an audit merely focuses on the accounts of a corporation. Although due diligence is largely financially based, the inquiry usually includes a thorough analysis of the legal, accounting, regulatory, organizational, and property aspects of a corporation as well.
What is the due diligence checklist?
A due diligence checklist is a systematic way to analyze a business that you buy by selling, combining or other processes. ... It also provides a due diligence checklist for: filing an audited financial statement or annual report.
How can a firm execute due diligence?
Usually, the due diligence process is begun by the technical staff of the supplier making a letter, asking for appropriate documents and any points they want to clarify. It is important that this should be done with care to avoid misunderstanding with the various specialists/questionnaires.
What is good due diligence?
Due diligence is the examination or exercising of caution that is usually required to be taken by a responsible company or individual before entering into an arrangement or contract with another entity, or an act of a certain level of care.
OUR STRENGTH LIES IN PROVIDING REAL WORLD PRACTICAL SOLUTIONS
Our foremost priority is to provide Instant Support and are always very particular on adherence of timely delivery so that you don't miss out on deadline. We have worked with some most time strict clients and we have never missed our target. Our one thumb rule says that "If we miss a deadline we are out". Accounts and Finance function need always alert eagle eye approach!
Our prices are most reasonable and under budget that you never realize any cost burden in your organization in comparison of value addition we bring in. We believe in adoption of your business first and fee shall take care of itself mantra. We never bill for disappointment and take ownership. It is how we like to be treated and that is how our customers are served.
We at AVS & Associates only recruit experienced, skilled professionals who have proven expertise in their field. With a diverse Team of Chartered Accountants, Company Secretaries, Lawyers, and various other consultants on board, we offer end to end financial and legal service under one roof saving time and energy and bring synergy effect between various functions.
Having over 20+ years experience in the leadership team ensure we maintain highest ethical standards and never go out of trust with you. We always believe in long term relationship with our clients hence integrity is something we value the most. We ensure transparency in communication, service and cost. Our specialized experts helps in maintaining high quality.
Don't believe us? See our Google ratings!
AVS and associates is extremely professional. They take care of all The things abiding by law and integrity whether it's a tax management or company registration. They have registered a company and took care of the taxes without me breaking a sweat, they took care of everything proactively. I'm extremely satisfied and would recommend to anyone and everyone.
AVS and associates is a very professional team. They handle all things abiding by law and takes out your burden of tax management , assets and all very very precisely up to the point. It's great working with the team.
Laxmi Kant Thakur
2020-08-28
Chrishans Media
2020-03-03
Hitesh Gurditta
2020-03-01
chiranjibi shah
2020-02-29
A wonderful experience with the team for the easy way out solutions of taxation and related matters...Thanks
Best place to work....Thanks Binay Sir...
Sarbendra Yadav
2020-02-28
RAVIRANJAN KUMAR
2020-02-28