Tax can be termed as in very simple words as the government's revenue or source of income. The money collected under the taxation system is put into use for the country's development through several projects and schemes. Tax is a compulsory payment to be made by every resident of India. It is a charge or burden laid upon persons or the property for the support of a Government. Government decided the rates and the items on which tax will be charged, like income tax, GST, etc.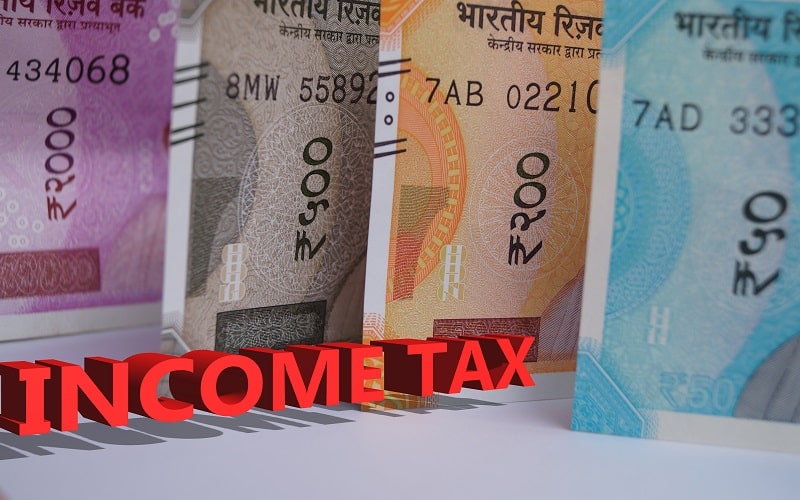 A tax is a mandatory fee or financial charge levied by any government on an individual or an organization to collect revenue for public works providing the best facilities and infrastructure. The most common type of tax that eligible citizens must pay to the government. A part of your income is paid to the government every year and the government uses this money to fund support the growth and development activities across the country.
An Individual who earns income above a certain amount is subject to income tax. Your income could be from salary, interest income from savings, income from mutual funds, sale of property or business or professional income. Income tax rates are pre-decided in every year's Union Budget in the Parliament of India.
Frequently Asked Questions​
What are the Types of Taxes?
These taxes are further subcategorized into direct & indirect taxes depending the way they are paid to the taxation authorities. 
Let us immerse deeper into both types of tax in detail:
The definition of direct tax is hidden in its name which implies that this tax is paid directly to the government by the taxpayer e.g. Income Tax and Wealth Tax.
From the government's perspective, estimating tax earnings from direct taxes is relatively easy as it bears a direct correlation to the income or wealth of the registered taxpayers.
Indirect taxes are quite different from direct taxes & the collection process is also a bit different. These taxes are based on consumption that are applied to goods or services when they are bought and sold. The indirect tax payment is received by the government from the seller of goods/services.
Some general examples of indirect tax include sales tax, Goods and Services Tax (GST), Value Added Tax (VAT), etc.
What type of tax is an income tax? What type of income is taxable in India?
Income tax is a direct tax on the income in a financial year. 
Below are some types of incomes and their taxation rules in India:
Income from salary/pension: This includes basic salary, taxable allowances, perquisites, and profit in lieu of salary, as well as pension received by the person who himself/herself has retired from the service. Incomes from salary & pension are added in the computation of taxable income.
Income from business: This includes actual & presumptive incomes from business and professions that individuals do in their personal capacity and is included to taxable income after adjustment of the deductions allowed.
Income from house property: An income tax assesses can own one or more house properties. These house properties can be self-occupied or rented out or even vacant. This head describes the rules relating to such ownership. It also describes how interest on home loan is to be accounted for in the case of self-occupied, rented out and vacant properties. An income tax assesses can claim certain deductions such as municipal taxes and a standard deduction for house maintenance in certain cases. The final net income or loss under this head is then added to or deducted from the income from the other heads.
Income from other sources: This includes incomes such as interest from a savings account, fixed deposits (FDs), family pension and many more. Income from Lottery, Betting, etc are included in the total income, but excluded from taxable income as different tax rates are applicable on these.
Capital Gain: Capital gains arise at the time of selling capital assets like gold, house properties, etc. Depending on the types of capital assets & the period of holding, gains on the sale of such assets are categorised as short-term and long-term capital gains. Although capital gains are part of income tax, they are not included to taxable income.
What are different Income Tax Return forms in India?
ITR-1: This is for resident Indians having Income from Salaries, one House Property, Other Sources (interest, family pension etc.), & Agricultural Income up to Rs 5,000. This form does not apply to an individual who has invested in Unlisted Equity Shares or is a Director in a company or has a total income of over Rs 50 lakh.
ITR-2: This ITR form is applicable to Individuals & HUFs who do not have income from profits and gains of business or profession.
ITR-3: This ITR form is for individuals & HUFs having income from profits and gains of business or profession need to use this form.
ITR-4: This form applies to resident Indian Individuals, HUFs, and Firms except LLP having income from Business and Profession up to Rs 50 lakh.
ITR-5: This form applies to assesses other than Individual, HUF, Company, and persons filing the ITR-7 Form.
ITR-7: This form is applicable for the persons, including companies, who need to furnish return.
Income Tax Slabs 
Income tax slabs under the new tax regime for all individuals - FY 2020-21 
| | |
| --- | --- |
| Income Tax Slab | Tax Rate |
| Up to Rs 2.5 lakh | NIL |
| Rs 2.5 lakh - Rs 5 lakh | 5% (Tax rebate of Rs 12,500 available under section 87A) |
| Rs 5 lakh - Rs 7.5 lakh | 10% |
| Rs 7.5 lakh - Rs 10 lakh | 15% |
| Rs 10 lakh - Rs 12.5 lakh | 20% |
| Rs 12.5 lakh - Rs 15 lakh | 25% |
| Rs 15 lakh and above | 30% |
What are the documents Required for Filing Income Tax Returns (ITR)?
Applicable ITR form-Taxpayers need to choose the ITR form applicable to them.

Link Aadhaar with PAN- It is mandatory for taxpayers to link Aadhaar before the filing of income tax returns.

For Salaried Employees
If you are a salaried employee, gather these documents to e-file your income tax returns: - 
PAN

Form-16 issued by your employer

Month wise salary slips
Documents related to interest income
Bank statement/passbook for interest on savings account.

Interest income statement for fixed deposits.

TDS certificate issued by banks and others.
Form 26AS-nForm 26AS is a summary of taxes deducted on your behalf and taxes paid by you. This is provided by the Income Tax Department.

Section 80 Investments- Section 80C investment document such as investment made under PPF, NSC, ULIPS, ELSS, LIC qualify for deductions under Section 80C.

These Documents Required to Claim the Following Expenses as Deductions
Your contribution to Provident Fund

Your children's school tuition fees

Life insurance premium payment

Stamp-duty and registration charges

Principal repayment on your home loan

Equity Linked Savings Scheme/Mutual funds investment
The maximum amount that can be claimed under Section 80C is Rs 1.5 lakhs.
Other Investment Documents
Interest paid on housing loan

Education loan interest payments.
How CA Mantra Assist you to File Income Tax Services?
At CA Mantra, we specialize in providing Income tax services to individuals, small scale and medium scale businesses which are highly effective and efficient. 
We assist you in these terms: -
Assisting in preparation of Income Tax Return

Assessment of Tax Returns

Provide Consultancy in income tax matters and tax planning

International taxation consultancy

Transfer Pricing matters-TP Study, TP Audit, TP Assessment & Objections with DRP

TDS & Withholding tax compliance

Income tax Appeals before CIT (Appeals)

Income tax Appeals before Income Tax Appellate Tribunal (ITAT)

Survey, Search & Seizer Consultancy

Appearance before Investigation Wing of Income Tax Department
5 Steps to File ITR on Income tax Government Portal
Step 1- Calculation of Income & Tax
The taxpayer needs to calculate his/her income as per the income tax law provisions applicable to him/her.
Step 2- Tax Deducted at Source (TDS) certificates and Form 26AS
The taxpayer should summarise his TDS amount from the TDS certificates received by him for all the 4 quarters of the financial year. Form 26AS helps the taxpayer in summarising the same.
Step 3- Choose the right Income Tax Form
The taxpayer needs to ascertain the income tax form/ITR Form applicable for filing his/her income tax return (ITR). 
There are 2 modes available for filing–online and offline. The online mode is available only for ITR 1 and ITR 4; it is not available for forms of other categories of individual taxpayers. The offline mode of filling is available for all types of income tax forms.
Step 4- Download ITR utility from income tax portal and fill your details
Fill in the relevant and accurate details of your income and check the tax payable or the refund receivable as per the calculations of the utility. The details of income tax challan can be filled in the downloaded form.
Step 5- Validate the information and Upload file on the income tax portal
Click on the 'Validate' button to ensure all the required information is filled. Upon successfully validating, Now, log in to the income tax e-filing portal and click 'Income Tax Return' option.
OUR STRENGTH LIES IN PROVIDING REAL WORLD PRACTICAL SOLUTIONS
Our foremost priority is to provide Instant Support and are always very particular on adherence of timely delivery so that you don't miss out on deadline. We have worked with some most time strict clients and we have never missed our target. Our one thumb rule says that "If we miss a deadline we are out". Accounts and Finance function need always alert eagle eye approach!
Our prices are most reasonable and under budget that you never realize any cost burden in your organization in comparison of value addition we bring in. We believe in adoption of your business first and fee shall take care of itself mantra. We never bill for disappointment and take ownership. It is how we like to be treated and that is how our customers are served.
We at AVS & Associates only recruit experienced, skilled professionals who have proven expertise in their field. With a diverse Team of Chartered Accountants, Company Secretaries, Lawyers, and various other consultants on board, we offer end to end financial and legal service under one roof saving time and energy and bring synergy effect between various functions.
Having over 20+ years experience in the leadership team ensure we maintain highest ethical standards and never go out of trust with you. We always believe in long term relationship with our clients hence integrity is something we value the most. We ensure transparency in communication, service and cost. Our specialized experts helps in maintaining high quality.
Don't believe us? See our Google ratings!
AVS and associates is extremely professional. They take care of all The things abiding by law and integrity whether it's a tax management or company registration. They have registered a company and took care of the taxes without me breaking a sweat, they took care of everything proactively. I'm extremely satisfied and would recommend to anyone and everyone.
AVS and associates is a very professional team. They handle all things abiding by law and takes out your burden of tax management , assets and all very very precisely up to the point. It's great working with the team.
Laxmi Kant Thakur
2020-08-28
Chrishans Media
2020-03-03
Hitesh Gurditta
2020-03-01
chiranjibi shah
2020-02-29
A wonderful experience with the team for the easy way out solutions of taxation and related matters...Thanks
Best place to work....Thanks Binay Sir...
Sarbendra Yadav
2020-02-28
RAVIRANJAN KUMAR
2020-02-28

AVS & Associates is a reliable CA firm of Delhi NCR. My company Management Associates Private Limited is taking their services from last ten years. Shri. V K Agrawal of AVS & Associates is knowledgeable, friendly and honest person.

had a nice experience with AVS. was in a urgent need of some income tax related docs and these guys helped out in really quick time. thanks, and would recommend anyone planning to avail their services....

chiranjibi shah
2020-02-29
A wonderful experience with the team for the easy way out solutions of taxation and related matters...Thanks

Amitabh Kulshreshtha
2020-09-02
I appreciate the fastest way of services by AVS. Till now we got registered around 6 group companies,(Limited, Private Limited and LLP). Their Teams approach to deal with us was something I liked most. Special mention to Mr. Rahul and Ms. Neha. Guys, frankly speaking initially i was in doubt whether to trust these people or not? but once spoke and saw the way they handled my companies formation work, they ended up forming our all group companies and now handling the regular Accounting, Taxation, GST etc... If you are searching for a CA for all your needs, i suggest you may pick these guys and can assign one task before you make any opinions. BTW, we are availing their services since last 3 years. Thanks!

AVS and associates is a very professional team. They handle all things abiding by law and takes out your burden of tax management , assets and all very very precisely up to the point. It's great working with the team.

I used their services for capital gain calculation and on many other factors to sell my flat in Noida while I'm here in Australia. Mr Vishnu is the man you need. Very professional, prompt replies and went an extra mile to do the job. Highly recommended.

Some highly talented group of indivisuals who do really care for customer satisfaction

I'm very satisfied with the service here. They have a very good behavior towards us and they listen to our problems closely and give the best solution. If you're starting up or running a business already I would recommend you to come here they are awesome!

There is environment and relation of every employee is very good. Management and discipline is very tough.

Highly Professional team. Really appreciate the way team coordinated & made everything easy for me. Thank you & wish you all the very best. Cheers.

Have been very cooperative. Proactive with every step. The team was patient and they made sure the entire process flow was smooth.

I got my company registered with avs. I am happy with their services and it was done quickly and in cost effective manner. Recommend anyone want to avail their services.

Pranav Tripathi
2020-02-29
Vishnu ji has been with our company for the past 10 years with many different companies . Soft spoken, humble and a thorough professional.

Kishore Kundan
2020-02-29
Very fast service with cost effective..Agarwal sir behavior is very supportive.. I will suggest all to take services from AVS..

Sushil Kumar Raj
2020-02-29
I would say they are the best for new company and start ups, the way they deal with person who do not have any idea about setting up of new company is remarkable....