An enterprise shall be categorised as a micro small and medium enterprise on the basis of following criteria namely:-
A micro-enterprise where the invests in plants and machinery or  devices does not exceed 1 crore rupees and turnover doesn't exceed 5 crores,
A small enterprise where the invests in plants and machinery or  devices does not exceed 10 crore rupees and turnover doesn't exceed 50 crores; and 
A medium-sized enterprise where the invests in plants and machinery or devices does not exceed fifty crore rupees and turnover doesn't exceed 250 crores.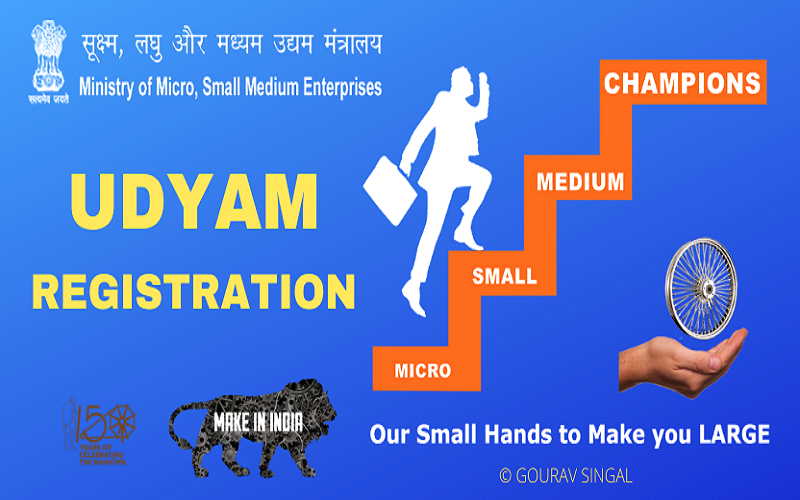 Frequently Asked Questions​
What is Udyam Registration?
Udyam Registration is the latest MSME registration mechanism that the Ministry of Micro, Small and Medium Enterprises launched on 1 July 2020
Who is eligible for Udyog Aadhar?
Each type of business entity including OPC, proprietorship, partnership, manufacturer, producer, limited company, private limited company, limited liability partnership, cooperative societies, any association of individuals, retailers, Hindu Undivided Family, or any other undertaking should get Udyog Aadhaar.

Your company needs to meet certain eligibility criteria set out in the 2006 MSMED Act, to be listed as a medium, small, and micro industry. Enterprise and business owners should check whether they can be classified under the MSMED Act.
What are Udyam Registration Benefits?
Tax benefits
Facilities to clear out overdue payments
A discount of 50 Percent on trademark and patent fees
Fewer interest rates for overdraft(OD) banks
Able to obtain Mudra Loan Scheme
Apply state tenders easily
How can I get Udyam certificate?
Instructions to print UDYAM registration
On Selected Option, you will receive OTP after clicking on the 'Validate & Generate OTP' button.
Enter OTP, and click on the button 'Validate OTP & Print.'
If your OTP entry matches successfully, you can auto redirect to the Certificate of Printing.
How do I update my MSME certificate?
In Udyog Aadhaar now applicants may edit or change their details. They will receive a One Time Password to either an Aadhar-linked mobile phone or the mobile number provided during UAM filing or will be sent to the applicant via email. The MoMSME said, "We've now given the Udyog Aadhaar Edit / Update facility.
Do multiple registration systems exist after the introduction of UAM?
For the time being, all other MSME registration schemes might be permitted to exist to gain access to valuable legacy data for making decisions. But only one system should be in place i.e. UAM to register new MSME units.
Who can access UAM Portal data?
State Governments officials including GM DICs are given a password-protected access to their jurisdiction's UAM info.


What if an enterprise does not have an Aadhaar number?
Aadhaar number is required to enroll under UAM. Individuals who do not have an Aadhaar number may file with the General Manager of the District Industries Center (DIC) in question for UAM.
OUR STRENGTH LIES IN PROVIDING REAL WORLD PRACTICAL SOLUTIONS
Our foremost priority is to provide Instant Support and are always very particular on adherence of timely delivery so that you don't miss out on deadline. We have worked with some most time strict clients and we have never missed our target. Our one thumb rule says that "If we miss a deadline we are out". Accounts and Finance function need always alert eagle eye approach!
Our prices are most reasonable and under budget that you never realize any cost burden in your organization in comparison of value addition we bring in. We believe in adoption of your business first and fee shall take care of itself mantra. We never bill for disappointment and take ownership. It is how we like to be treated and that is how our customers are served.
We at AVS & Associates only recruit experienced, skilled professionals who have proven expertise in their field. With a diverse Team of Chartered Accountants, Company Secretaries, Lawyers, and various other consultants on board, we offer end to end financial and legal service under one roof saving time and energy and bring synergy effect between various functions.
Having over 20+ years experience in the leadership team ensure we maintain highest ethical standards and never go out of trust with you. We always believe in long term relationship with our clients hence integrity is something we value the most. We ensure transparency in communication, service and cost. Our specialized experts helps in maintaining high quality.
Don't believe us? See our Google ratings!
AVS and associates is extremely professional. They take care of all The things abiding by law and integrity whether it's a tax management or company registration. They have registered a company and took care of the taxes without me breaking a sweat, they took care of everything proactively. I'm extremely satisfied and would recommend to anyone and everyone.
AVS and associates is a very professional team. They handle all things abiding by law and takes out your burden of tax management , assets and all very very precisely up to the point. It's great working with the team.
Laxmi Kant Thakur
2020-08-28
Chrishans Media
2020-03-03
Hitesh Gurditta
2020-03-01
chiranjibi shah
2020-02-29
A wonderful experience with the team for the easy way out solutions of taxation and related matters...Thanks
Best place to work....Thanks Binay Sir...
Sarbendra Yadav
2020-02-28
RAVIRANJAN KUMAR
2020-02-28